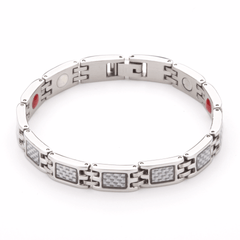 Hauora Bracelet With Grey Panels
Regular price $44 Sale
Free Shipping Worldwide On all Orders over £80
Free Returns Worldwide
24-Month Warranty
100% Secure Checkout
Confidence. Luck. Health
This hand made Hauora (health) bracelet was designed to make an impact and also to bring luck into your life. The bracelet like all our pieces was made to make a fashion impact, is silver in colour with grey panels to deflect bad luck and is embedded with magnets, negative ions, germanium and far infrared red stones to boost your health, while ensuring you look stylish. The magnets offer improved blood flow. Negative ions offer increased energy levels. Germanium is known to aid fatigue, by providiing a natural body balance. Far infared stones have been proven to promote cell growth and your metabolism.
Our Hauora bracelets are designed to combine fashion with health benefits and make an amazing fashion accessory to compliment your fashion style.
Not only do you get to look good but feel good too.
Check out our Health Stones page for the full list of benefit.
You can remove the links if you need to alter the size.